Pro's and Con's of Buying A New House Vs An Older Home
In this guide you will learn some of the benefits and pitfalls of Buying a New Vs Exting Home.  When you buy a new home from a developer or builder you are buying a home that has never been lived in before. Secondly, you are also buying a home that has been inspected from top to bottom by the builder or developer. In addition, any defects that the builder or developer knows about have been fixed at no additional cost to you. And this guide will help you to decide about The Pros and Cons of Buying a New House vs an Older Home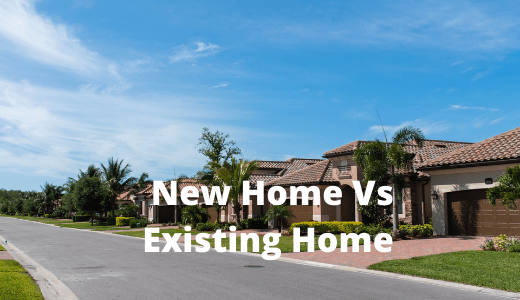 A brand new home is also built to be environmentally friendly which mostly uses the latest building materials and techniques. So, you have a new home that is ready to be lived in with all the construction problems that had been identified and fixed.
Many states require home builders to warrant a new home against construction defects. And this warranty by builders may go for up to 10 years, which most people would see as a big added benefit.
A Brand New Home Gives You The Option Of Customizing The Home In A Way That Suits Your Needs
If you are planning on building a new home, you have a lot of options to consider. Firstly, the interior design to the layout. Secondly,  from the windows to the appliances. Lastly, the exterior look of the home. And many more decisions to be made.
As a homeowner, you have the flexibility to completely customize your home in a way that suits your needs. You can even choose the floor plan to suit your family's needs.
The builder will present you with options of types of countertops, finish plumbing fixtures, window coverings, custom paint colors and so much more.  Home buyers find it more convenient to have these options installed before moving in and can be more cost-effective than after you move in.  That's why many buyers prefer a New House vs an Older Home.
Advantages and disadvantages of buying a new house
New homes are popular for their quality and low cost. However, homebuyers should always put into consideration the disadvantages of buying a new house. This is especially true if you are considering purchasing a home from a builder who offers a new house at a lower price than the same house would cost in an existing neighborhood.
Though you may pay less to buy a new house, you will also pay less for maintenance. You won't have to worry about repairs, as you would with an existing house.  On the surface, the older home may seem less expensive but when you add in the cost to modernize it and bring it to the new home standards then it can end up becoming the more expensive option
A new home has the advantage of, well – everything is new.   Whereas, with an older home that has not been remodeled – the appliances, cabinets, hardware, fixtures will be used and worn.   What do you prefer?  New or Worn in need of expensive remodel?
An older home may have established trees and landscaping all over making the neighborhood beautiful with a lot of shade whereas a new home subdivision will take many years for the trees and landscaping to be fully developed.  Unless you are building a new home in a wooded lot or area with plenty of grown trees.   Or perhaps you are the type of buyer who prefers an area without a lot of established trees to keep down on the yard work and raking leaves.
How to Finance a Brand New Home – Veteran, FHA, Conventional, Jumbo Loan – New House vs an Older Home?
Buying a brand new home is one of the biggest investments you can make. With the rising cost of new home construction, it can be hard to finance these new homes for sale.
Homeowners and homebuyers find financing a brand new home extremely difficult. Banks want to see a significant down payment and a good credit rating. This is why the new home mortgage market is so important as it offers many financing options for buyers who have good credit and are willing to make a down payment of at least 20% of the purchase price.
You will also want to talk with your lender about lower or even zero down payment options such as VA and FHA home loans.  In rural areas, the USDA has loan programs as well with low down payments.
Builders Tips: How to pick a good builder
What things are there to do before signing the contract?
What Type of Building Materials and Finishes Will the Home Be Constructed With?
Are the home and neighborhood safe and secure?
Are there financing options available that fit my needs?
The Process of Making an Offer and choosing an outside agent to represent me.
Do I need a real estate attorney or title and escrow company?
Is a home warranty available and what is included in the home warranty?
What should I expect euring the building process?
How long has the builder been in business?
What is the builder's reputation in the industry?
Does the builder currently have the proper licenses and permits?
Did the builder build a similar house recently whose owners you can talk to?
How long will it take to build your new house?
How much will it cost?
What are the builder's down payment options?
What types of homes does the builder build?
Should I use a real estate agent to purchase a new home from a home builder?
Buying a new home from a homebuilder developer is not easy. The reason for this is that the process is long and complicated. As such, a lot of people just go through the whole process by themselves, without using a real estate agent.
In either scenario – Buying a "new house vs an older home" whichever you choose, it is a good suggestion to avail the services of a real estate agent.  However, that is not the best decision, as a good real estate agent does bring a lot to the table.
This is why if anyone has a question about "should I use a real estate agent to purchase a new home from a home builder", the answer is definitely YES.
A lot of people want to skip using a real estate agent because they think it will save them money. The truth is, real estate agents, offer a lot of benefits that you don't get if you try to purchase a new home from a home builder on your own.
Will the new home be energy efficient?
If you're in the market for a new home, you've probably asked yourself how much energy-efficient features will cost. Whether or not they're worth the investment. Energy-efficient features cost more upfront. However, they are a wise investment because they can save you money in the long run by reducing your energy bills.  This again is one of the major difference between buying a new house vs an older home
The U.S. Department of Energy estimates that the average homeowner could save up to $358 a year on energy bills by making energy-efficient improvements. Examples of energy-efficient homes would be replacing old appliances, adding insulation, and installing more efficient heating and cooling systems.
Conclusion of Pro's and Con's of Buying a New House vs an Older Home
Each home buyer will need to decide the merits of buying a new home vs an older home.  The reason being there are so many things to take into consideration.   On the other hand, many people might want to move into an existing more established neighborhood.  Still, others want everything in their home to be brand new.
The Article Buying A New House vs an Older Home – The Pro's and Con's First Appeared ON
: https://gqcentral.co.uk